AS_XC3
AS_XC3 is a win32 VST plugin (made with SynthEdit/SE_SDK2) which generates MIDI Clock Sync.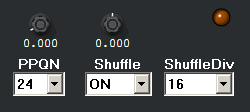 AS_XC3:
Uses the VstTimeInfo TransportPlaying to start/stop.

MIDI_CLOCK messages are generated at all times (even when not playing).

Tempo is adjustable (zero means auto-BPM).

Adjustable shuffle (bipolar).

Shuffle divisions (16/8/4).

12/24/48/96 clock ticks per quarter note.
Note

Your DAW must support MIDI output from VST plugins, and not filter-out the MIDI Sync messages.
It's possible to use this plugin as a master clock for external devices ;]
XC3 has no audio inputs or outputs.